Glebe Farm's Wellington Bomber and Mosquito WWII planes.
There has been a lot of publicity recently about WWII aircraft being dug up in the local area.
A few years ago part of a Mosquito under-carriage was pulled up by a tractor pulling a farm implement. Nobody really new what it was but it was suggested that it should be taken to the Pathfinder Museum at RAF Wyton. Then all went quiet…..
Marc Marshall, from Glebe Farm, was keen to try his new metal detector.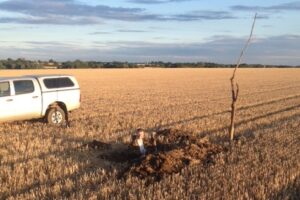 The crops were still standing in July so he started digging at gaps within the crops. Without realising it, these sparsely cropped areas, no bigger than a size of a small car, were dotted with sand patches within the soil. This was evidence that oil seepage had been found as the RAF usually would have filled the area with sand after a crash.
An elderly gentleman, Ralph Dodson in Kings Ripton village, was asked to recall his old memories. He remembered, as a boy, hearing a loud explosion and ran towards the enormous fire coming from the fields at Glebe Farm. He said he heard a sheep bleeting, but Cambridgeshire is not a county for sheep to graze! Instead what he heard was an airman who had been catapulted out of his aircraft into a hedge and was asking for help. The story of the Wellington MK III BJ716 continues…
Wellington

This aircraft only had one successful mission and took off from Warboys airfield on the 27th August 1942 with that nights target being Kassel. The aircraft was attacked by a night fighter while over Hamm/Munster but after retaliating with machine gun fire, the fighter retreated and the Wellington returned with minor flak damage.
The Wellington's second fateful mission was to target Saarbrucken on the night of 1st September 1942, unfortunately just after takeoff the aircraft crashed into land at Glebe Farm, bursting into flames and killing three of the crew who are buried locally at Houghton / Wyton churchyard.
Although the majority of the wreckage was removed at the time of the crash many parts have been found in the area with a metal detector such as the geodetic construction tubing (air frame), parts of a bomb sight, oxygen regulator, radio parts, engine parts, electrical connections, remains of .303 cartridges and many fragments of aluminium, some of which formed into ingots from the heat of the fire.
Mosquito
The second crash site on Glebe Farm is believed to be a De Havilland Mosquito as many parts have been found that relate to this type of aircraft but the investigation is still ongoing and currently being researched. Parts found include parachute buckles, cockpit gauge, fragments of wood, Perspex and many fragments of engine casing.
Marc's other hobby, other than metal detecting, is brewing beer. Night Mission and Wellington Bomber Porter have been developed and brewed in Memory of Heroes.
Read more about our gluten free beers…
It started as a micro brewery on the farm, however the amount of beer sold was too much to cope with, so a contract brewer was asked to help out. Now the beer is sold nationwide in outlets such as Dobbies Garden Centres, Ocado and independents – see stockists for details