Glebe Farm Foods has secured listings for its PureOaty oat drink in 50 Co-Op Central England stores.

PureOaty is a gluten free oat drink made from British gluten free British oats at Glebe Farm in Cambridgeshire and it started to roll out across the network of Co-op stores in April.
Rebecca Rayner, Director at Glebe Farm Foods: "We are absolutely thrilled with this new listing in 50 Central England Co-Op stores. The Co-Op is a proud supporter of British farmers and produce, as well as championing health and wellbeing for their customers. PureOaty is therefore the perfect fit. Over the last few months, the demand for our British grown and made oat drink has soared and we are really excited that Co-Op customers will now have the opportunity to enjoy it as well."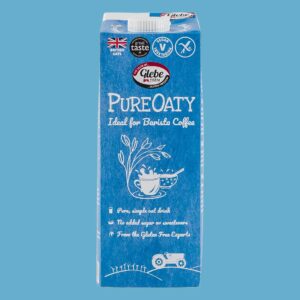 Consumers are embracing British grown and made products more than ever, especially over the last couple of months, as they have taken to finding local products to meet their needs. Recent research from HIM* suggested that the impact of Brexit would encourage more consumers to buy British and six in ten consumers agreed they were more likely to buy something if it was locally sourced. Surmising that this can only have increased over the last couple of months as the retail industry has struggled to maintain supply, the latest HIM PULSE Report suggests that a new community spirit has emerged which could translate into greater demand for locally sourced products, benefitting small businesses and local economies.
Rebecca concludes:
"Everyone has pulled together to meet consumer demand and it feels really good to have been able to help our customers through this difficult time. To have gained new listings as well is just incredible. We're a small business based near Cambridge and we've felt an overwhelming positivity towards our products over the last few months. As well as championing British made and owned, our philosophy of controlling 'seed to shelf' is crucial to our business and our PureOaty is a delicious plant-based alternative to milk using only four ingredients: British Oats, Water, Sunflower Oil and a pinch of Salt. It was developed to work perfectly with coffee and it also tastes great in porridge and in baking. We recently expanded our farm and with a new multi-million-pound production facility, we are well prepared for future demand."
As well as its coffee credentials, PureOaty also proves the ideal dairy-free ingredient to use in a wide variety of culinary applications, from sauces and soups through to baking and desserts.
PureOaty is suitable for vegans, as well as offering an excellent plant-based option for those with lactose intolerance, coeliac disease and nut allergies. Glebe Farm Foods is the largest certified gluten free oat manufacturer in Europe and supplies oats and cereals to many retailers and foodservice operators across the UK and Europe.
For further information on PureOaty or other products in the Glebe Farm Foods range please go to glebefarmfoods.co.uk/shop or call +44 (01487 773282.
*HIM Shopper. Pulse Updates. Coronavirus Highlighting the Impact of Local. 15th May 2020