Gluten Free
for Resale
Glebe Farm offers a range of tasty gluten free porridge oats, muesli, granolas, flours and our PureOaty oat drink.
Everything we do is tested to the highest UK and European standards so your customers can be assured of absolute gluten free purity, every time.
Check out our list of wholesale distributors below or set up a trade account for convenient repeat orders at great rates.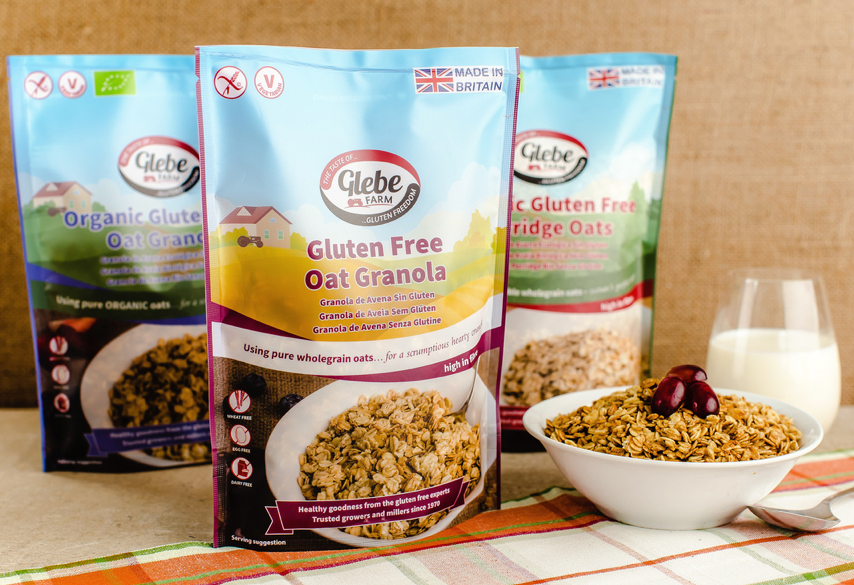 Find a wholesaler or get a trade account
Our Wholesale network is growing all the time. Check out our current list of distributors below or create a trade account with us today for preferential pricing and convenient ordering
Testimonials
It's simple: Glebe Farm offers the right range of gluten free products at prices that suit our customers. Added to that, we share the same values around food quality, provenance and supporting British business – so Glebe Farm are a great business partner all round for us.

Kelly Richardson, Cambridge Juice Company
Frequently asked questions
Got a question? Have a look below in case someone has already asked it, and then get in touch if you can't find what you need to know.
All we ask is that you are a registered and relevant reseller business. Please click on the 'Register' button in the 'Get a Discount with a trade account' above and we will ask you for a few details and process your request.
Many of our products are vegan and these are marked in the product listings section of this website. However, a number of our granolas include honey so please be aware that not all our products meet the strict vegan criteria.
Currently many countries do not have in place an independent testing regime and rely upon suppliers to prove and self-regulate that they achieve the required gluten free specification. Customers can be assured that Glebe Farm's oats exceed the highest industry standards possible at under 5PPM vs. the UK AOCES benchmark of 20PPM. Glebe Farm's gluten free oats and oat products are verified gluten free through the ELISA R5 test using the Mendez cocktail extraction of gluten (the AOAC test). This gives the highest sensitivity to wheat, barley and other gluten sources and is the most reliable test in our experience.
Current UK & EU food standards authorities state that milk must be of mammalian animal origin and that plant-based alternatives may not be marketed as 'milk'. Some plant-based drink manufacturers choose to use terms such as 'mylk', 'm*lk' or other variants to infer similarity to dairy milk but Glebe Farm has chosen to simply refer to PureOaty as oat drink and allow consumers to draw their own conclusions.
The latest from Glebe Farm